HRCPCC News and Information
The Hard Rock Doc - Greg DeVor
HRCPCC Calendar of Events - Tony Anzur
PinCatalog Update - Neal Ekengren & Christine Ehring
Anna's Passport Report - Anna Oyape
Kobe HRC Pin Collectors' Party - "The Logoholic"
San Diego Pinapalooza Report - Michael Candland
Pin of the Quarter - Virgil LaFerney
Getting Involved - Club Officers

---


"The Hard Rock Doc"
Article by Greg DeVor






Many of the people in the Hard Rock Cafe Pin Collectors Club know me as "Dr. DarthE "Dr. D and DE "former Japan connectionE among others. But there was one that preceded them all EThe Hard Rock DocE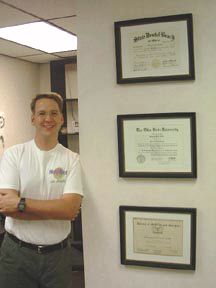 "The Hard Rock Doc"



My name is Dr. Greg DeVor and, yes, I am a dentist. (Insert shiver here). While I was in the United States Navy I had many opportunities to travel and see the world. My naval dental career spanned nearly four years and two continents. While I was stationed aboard Marine Corps Air Station, Iwakuni, Japan I picked up yet another nickname: "The Hard Rock DocE (For those who don't know Japanese geography, Iwakuni is about 35 miles south of Hiroshima in southern Japan.) A co-worker affectionately gave it to me since my love for the Hard Rock CafEwas quickly becoming widely known throughout the small military base. In fact, many people while on vacation would bring me back souvenirs from the cafEas a thank you for the work that I did for them.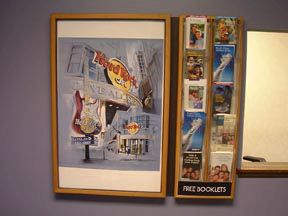 "Waiting room information rack with Cleveland poster"



About a year ago, I parted ways with the Navy and embarked on my life, with my wife, as a civilian. With the help of an online brokerage firm, I was able to secure funding for my very own dental office. On April 13, 2002, my long-time dream came true!! The office looked like every other dental office in the country: dental chairs, reception area, hygiene room, waiting room, etc. There was really no distinguishable character at all. It stayed that way for about a month. Then one night, my wife and I were sitting around with some friends just talking the practice and throwing out ideas. I mentioned that I wish that there were some way that I could combine my two favorite things in the world. Those two things are the Hard Rock CafEand dentistry.

The dawning of an idea E/i>

Shortly after that, the nickname came back to me: "The Hard Rock DocE That was it! The idea bag was opened and just started to overflow! First thing that I did was to "create/borrowEa logo idea.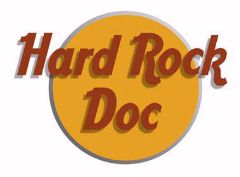 Pretty cool, huh? Once that was done, I felt like I had an identity and a sense of direction. We came up with the idea to decorate the entire office with HRC gear. Since the middle of May, the office has been transformed from an everyday looking dental office to the hardest rockinEdental office in Cleveland! The response to the new décor has been wonderful. Even the "older patientsEget a kick out of it.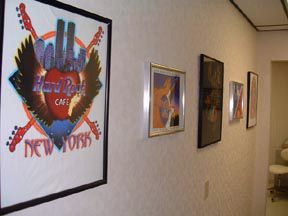 "Wall of Framed t-shirts"



Music is in everyone's life. Music is eternal and timeless. Music can take you back to your senior prom, your first kiss and your first slow dance. Music defines a generation. From the swinging 40's, Elvis and the 50's, the psychedelic 60's, guitar rock of the 70's, Madonna and the King of Pop of the 80's, Nirvana and the 90's, to the musical artists of today. Music isn't just a part of everyone's life; music is life. All types of music: Rock and Roll, country, big band, jazz, classical, gospel, "classic,Erock, "popE etc. It makes no difference. Music is the essence of life. My goal is to share my passion for music with all of my patients.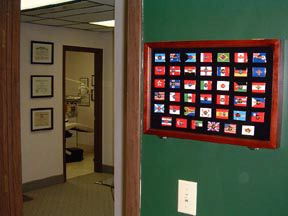 "Case of Flag pins from within inner office"



To be bold, I want to be the "Official Dentist of The Hard Rock Café". My office, as you can see, is becoming a shrine to music and the HRC. (I am saving room on the walls for "officialEHard Rock CafEmemorabilia.) Right now, I consider myself nothing more than a HUGE fan and a collecting maniac.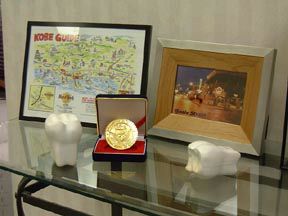 "Display table with Kobe map and HRC picture"



My goal is to provide quality dentistry in a fun and relaxing atmosphere. Being "The Hard Rock DocEis really a lot of fun. Moreover it puts my patients at ease. There is something magical about my HRC décor, patients talk about it and they focus on it. It keeps their minds off of the reason that they are there in the first place.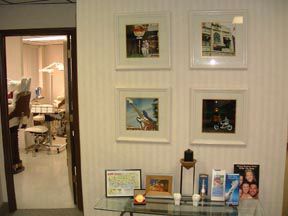 "Wall of photos"
Kobe - TJ - Newport Beach - Myrtle Beach



I want to extend an open invitation to any and all Hard Rockers out there to stop by and visit the office and take a look for your self. The address is: 1440 Snow Road #212, Parma, Ohio 44134. The phone number is 216-749-1242. If you plan on visiting, please email me at wgni01@yahoo.com indicating that you will be stopping by. Then start getting you trader bags ready Epin trading is always welcome.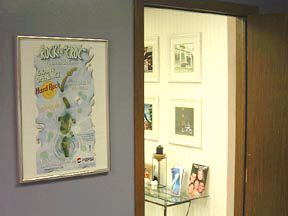 "Ft. Lauderdale Grand Opening poster looking into office"



When was the last time that you were at your dentist's office? If you can't remember or has been more than 6 months Eplease call and make that appointment. Your teeth will thank you!

Remember E"Be true to your teeth or they will be false to you!E


Greg DeVor
Hard Rock Doc
HRCPCC - Club Member


Return to the top of this page

---
"HRCPCC Calendar of Events"
Update from Tony Anzur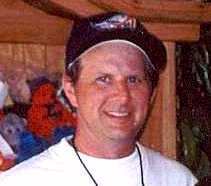 Hi,

As we look forward to 2003, the 2002 Fall Event season has finally come to an end. We had some great events in the fall of 2002, starting with "Pinapalooza". We had over 1200 people attend the event in 16 cafes including our first franchise cafe Melbourne. Melbourne had 55 collectors attend thus a great start for our first event in Melbourne.

The Washington D.C. "Pin Summit" was our October Event. For those of you who missed this event, it was one of the best of the year. The staff was enthusiastic, the cafe was excited to host the event, and the attendee's were in great spirit. The Friday night pre-event party was amazing with martini drink specials and a Friday night party pin. The party lasted well into the night and everyone had a really great time. Event day (Saturday) was great!!! The day kicked off with breakfast up on the cafes second floor which we had for the whole day just for the event. In the afternoon the cafe gave away door prizes and we had a cool silent auction. The day concluded with a group tour of the newest DC Museum, the Spy Museum.

Finally came the 3 day LA area "Pindemonium" event. Kicking off on Friday night at the Newport Beach HRC we had a cool dinner buffet/pin trading evening. The cafe staff was great and the cafe pre-released their 10th anniversary pin for the event.

Hollywood was the second leg of the 3 day event with a full day of trading on Saturday. The event was held to benefit the animals at the LA Zoo. We also had a special surprise as the full "Star Wars" crew showed up out in the courtyard in front of the cafe.

The Los Angeles cafe held their portion of the event the next morning (Sunday). The cafe served a super breakfast buffet. The cafe also introduced the "Day of the Dead" guitar at the event. For those of you who missed "Pindemonium 2002", it was a great weekend event.

In the upcoming year we are going to have some cool events at some cafe locations where we've never had an event before. We will be kicking off the year in Orlando (Jan 17-18) at our HRCPCC "Winter Carnival" bash. We will also be holding and expanded 2nd "Pinaversary" with 20 locations receiving invitations to join this worldwide day of trading. Also, later in the year cafes such as Edinburgh, New Orleans, and our first event in Europe are in the works for 2003. Check the HRCPCC calendar often for info and updates on upcoming events.

Below is a list of HRCPCC events scheduled for early 2003. Hopefully we will see you there...




"Winter Carnival"
Orlando HRC
January 17-18, 2003

"Pinaversary"
HRCPCC 2nd Birthday Party
Coming to a nearby HRC
March 1, 2003
Host cafes to be announced soon

"Boston Pin Party"
Boston HRC
March 15, 2003

7th Annual Texas Pin Shootout
Austin HRC
April 12, 2003



For a complete list of local, regional and major events, please check the HRCPCC Calendar of Events area located on the main start page when you first logon to the site. If you know of any events we may have missed, please let us know.

Have an idea for a future HRCPCC event? Have a suggestion for how to improve events? Interested in helping to organize a pin-trading event at your local HRC? If so then send me a note and let me know what's on your mind. Your feedback is always welcome, and we are always looking for ways to make events even more successful and enjoyable. Get involved!

Tony Anzur
HRCPCC Events Coordinator


Return to the top of this page

---


"PinCatalog Update"
Update from Neal Ekengren and Christine Ehring





The PinCatalog has nearly 14,000 pins and almost 50% have pictures. Last report we were only at 30%. I still can't believe it. You guys are awesome. As always, we added a few features/changes over the last few months.

The amount of work that PinMasters are putting into this is awesome. What's really nice is that we have been able to "upgrade" and our PinMaster ranks are getting ever more professional and just plain good.

That Pinatic Profile page sure is getting big. Hopefully, I'll be forced to break it into multiple pages after many more fine pictures are uploaded. I see we are getting very inventive with our photos. Hmmm. I would have to say Jim Lange holding the little Virgil baby is my favorite! Just very sweet and touching.

I'm sure most of you have noticed our new Auction feature. Although this is available for the general public, I know many of the first listings are very specialized pins which should be of interest to our HRCPCC members. I believe that those high bids you are seeing are really promoting higher values for your entire pin collections!!

PinCatalog Statistics Report
PinBack and PinPaint Variations
PinMaster's
PinCatalog Discussions

Hope to see some of you in Orlando for Winter Carnival.....

Neal Ekengren
Christine Ehring
HRCPCC PinMasters
HardRock.com Web Team


Return to the top of this page

---
"Anna's Passport Report"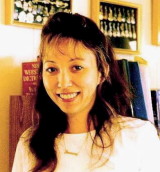 Aloha,

Contratulations to Fred Rebhun for being our first HRCPCC member to visit 100 cafes. A major accomplisment. Fred made the historic visit on August 22 at the Pittsburgh HRC. Several HRCPCC members were on hand along with the staff of the Pittsburgh cafe. Way to go Fred.

David Rodriguez is hanging in there with an amazing 88 visits and Mark Cormane and Ricky Sorzi recently reached the 75 visit plateau. Both Mark and Riccardo seem to be eager to hit that magical 100 mark as they continue to add new cafes to their list on a very regular basis.

At the same time it's hard to not mention all of those who have visited so many cafes. When you look at the Top 100 it is just amazing to think that so many people are out visiting so many cafes. Every person in the Top 100 now have at least 32 visits. Congratulations to everyone.

Please remember when sending me your receipts and pictures that you should include your name, e-mail address, club membership number and a list of locations. I will not accept visits unless you send me the receipts and pictures so no sob stories. Please note, send me copies of your receipts as they and the photographs will not be returned. Also, in case you are wondering, all proof of visit info must be mailed to me, as I will not accept them via e-mail or fax.

For those who have franchise visits you'd like to have recorded, here is my address.



Anna Oyape
3174 Bridges PL.
Honolulu, HI
96818-3654



For you new members, below is a scan of the entire Passport Program pin series displayed inside a great looking frame. The 75th visit pin includes a ruby and the 100th visit pin finishes off the set with a great looking diamond. For those who reach the century mark, you will also receive a special engraved commemorative plaque to celebrate this monumental milestone.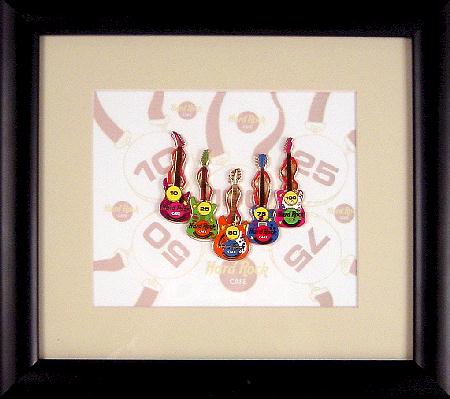 Good luck to everyone. Have fun in your quest for the next Hard Rock visit.

Anna Oyape
HRCPCC Pin Passport Program Coordinator



Return to the top of this page

---
"Kobe Hard Rock Cafe Pin Collectors' Party"
Article by "The Logoholic"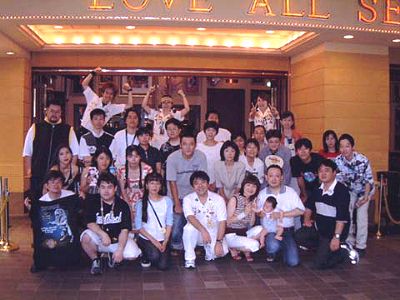 Kobe Hard Rock Cafe held an official pin collector's party for the first time in Japan on Sunday, July 14th. 2002. The event information was not advertised so widely and was informed only through mailing list from Kobe Hard Rock. But this interesting rumor spread all over Japan on the grapevine (by word of mouth) and a lot of fans got together to enjoy the party.

The event started at 12 noon with the Kobe GM saying a few words of welcome. The event fee was 3,000 yen (US$25). The fee included lunch and a special event guitar pin. Showing up at the event was so many pin collectors as well as Hard Rock bear fans, T shirts and Zippo collectors.

Honestly speaking, I personally never thought that a pin collector's party would be held in Japan, but we finally were able to have a meeting in a cafe and it appears we are able to get along with the cafe staff. As many of you know, even today there are very few Japanese who attend pin events overseas, so this is a major step forward. I'll keep trying to invite as many Japanese as possible to attend pin events not only my friends but also staff or managers as I believe that would be a good opportunity for them as they would see what pin collecting is all about. Now I'm so happy that at least some improvement in the relationship between the cafes and collectors is beginning. We can only hope that it continues.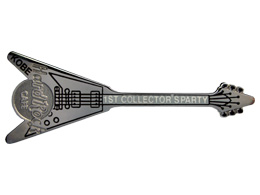 "Kobe 1st Collector's Party guitar"



The attached scan is of the event guitar pin, only 200 made. 29 pieces were handed out to attendees as a gift (we were 29), GM and merchandise manager bought 1 each for their collection. The event was over at 15:00 pm, then they let us to buy 5 pieces per person for everybody to be able to have some extras, almost 150 of 200 had gone as of this moment. After confirming that every attendees got enough amount, then the rest of 50 went to be available. Several of us bought 5 pieces more and the guitar pin was sold out very quickly within 15 minutes.


"The Logoholic"
The Logoholic
HRCPCC - Club Member
www.logoholic.com


Return to the top of this page

---
"San Diego Pinapalooza Report"
Article by Michael Candland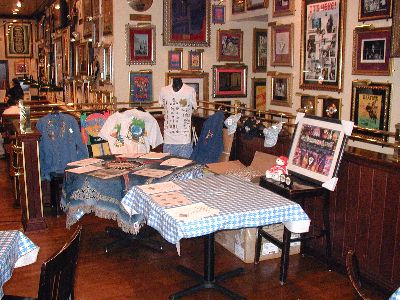 After days of planning the big day finally arrived. With help from the staff members we have the goodie bags ready with a laminate and memorabilia scavenger hunt sheets. I arrive at 7:30am and Andy Sageman arrive about 8 am to start setting up. After getting the sign in table ready and putting an extra 'goodie' in the goodie bags we set out all the stuff for the silent auction and the Grand prize give away. The Grand Prize is a framed I 5 set. There were some really cool items for the silent auction. Specially from the Staff at the Honolulu cafe they donate a Honolulu city Tee shirt with 57 pins. Just to name a few - Key West 2nd Anniversary fish guitar, 3 other fish guitars, Maui 2002 4th of July and many more. 1 Framed Timeline set 148/500 that was the give away at the London 30th Anniversary party - Thanks to Corporate. Several hats covered with pins from the Kona and London Cafes. And many others.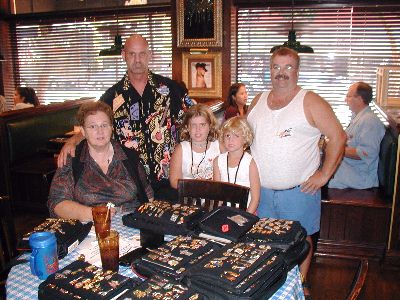 Collectors started arriving around 9 am with Steve Thesing and Jo Ann Thesing being the first. By 10 am things were in full swing. More collectors kept arriving when the first silent auction started at 11 am. We had 4 groups of auction items ending at 12noon 1pm 2pm and 3pm. Pins were flying all around the cafe. With servers asking trivia questions with a pin as the prize for correctly answering the question. Attendees were checking out all the memorabilia on the walls to answer the questions. They signed and turned in the sheets as these are used for the 3:30pm drawings. It looked like everyone was having a wonderful time. Event pins and bears went on sale at 11 am. And with the attendees having 2 tickets in their goodie bags - red for the bear and orange for the pins. There was no need for anyone to have to stand in line.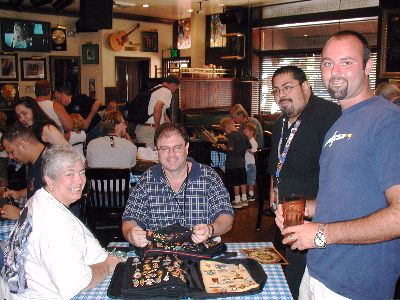 Traders were coming in all day. So at 3:30pm I made some closing comments and thank you's. Then the traders that were still here were asked to look under their chairs. There were 4 chairs with numbers under them. The lucky ones with a number won a bag of 5 pins. See it always pays to stay until the end. Then the drawing. The I 5 set was given away along with a few other items. All silent auction items were paid for and the final tally was - $1350.00. All the funds went to the local Ambassador Club to help Adam Collins. He is a server who was in a surfing accident a couple of months ago and broke his neck. Adam is doing just fine. He was able to attend the event and was very grateful for all the help from the attendees.

We had the stage area of the cafe until 4:30pm so everyone was gone except a few hard core traders by then. So after the dust cleared everyone had a wonderful time with friends both new and old. We even had a couple of traders from the east coast and 2 from Japan attend.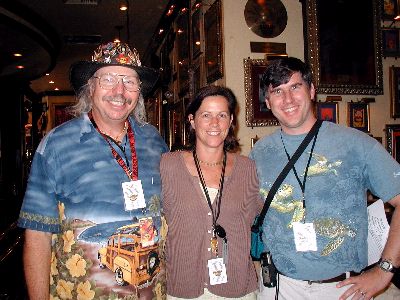 We would like to thank everyone who attended and especially thank these people and groups for their donations to help make the 2002 Pinapalooza event at San Diego a total success.

San Diego Cafe GM ( Eric ) and Staff
Bunny Gonzales Manager at San Diego Cafe
Bill Roth
The Staff at the Honolulu Cafe
The Staff at the Kona Cafe
The London Cafe
The Toronto Cafe
The Nashville Cafe
Corporate for their donations
Everyone who purchased items at the silent auction........ Thanks


So until next time bye for now and 'Keep Rockin'.


Michael Candland - "Gomer"
HRCPCC - Club Member


Return to the top of this page

---


"Pin of the Quarter"
Article by Virgil LaFerney




Over time I think we all run across special pins that we either hear about, see in someone elses collection, or even better we make the big score and add it to our own collections. I suppose all of us have a few pins that we consider really special and really enjoy showing off when at all possible and that's really what this hobby is all about in some respects.

Recently as I was going through my collection, taking pictures of all of my pins for the Pin Locker, I again gazed at a few special pins that I'm very proud of. I'd like to tell you about one or them as the story behind the pin is really what makes it stand out from all of the rest.



________________________________________



Over the years people have tried to determine what was the first pin created at the London HRC. Kind of a tricky one to figure out as we always want to think the beautiful pins produced by FC Parry were first. What we have determined is that the first pins created and sold were actually done so by a company named Morton Culver. These pins were sold back in the '73-'74 timeframe. The "Culver" pins appeared very rough and unfinished thus most collectors today who see them will think it is a fake or a fantasy pin. Even the various pin guides will show the value of this pin as being much lower than some of the early FC Parry Les Pauls. To the contrary, the early Culver pins were created in much smaller numbers thus in all reality, should probably be some of the more valuable pins to have in your collection.

While we don't know the exact date, FC Parry of England purchased or bought out Morton Culver and began producing pins for the HRC London. Part of the carry-over from Culver that could be seen on the Parry pins is the spring/loop back assemblies. That clasp assembly and idea was first started by Culver.

Below is a front and back picture of the original Culver Les Paul. You will notice the front is not polished, and appears rough around the edges. Missing is the "clear resin epoxy" coating that many of the later pins FC Parry pins included. One of the items to be on the lookout for is the grave accent over the "E" in CAFE. All of the Culver Les Paul guitar pins had that accent which you'll never find on any of the Parry pins. Also, notice the plain back. Many of the guides, not knowing what this pin is will mention "FC Parry type clasp". There are no special marks or writing on the back of this pin.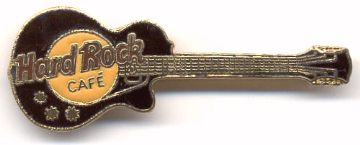 "Morton Culver original HRC Les Paul"



Also, produced and sold at the same time was the first HRC logo pin. No special markings on the back and again, a rough, non-polished pin. The pin appears to be a bit convex and this can be noticed more when viewed from the back side.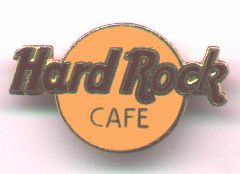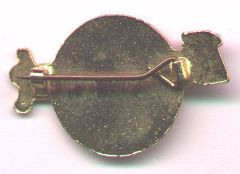 "Morton Culver original HRC Logo"
Virgil LaFerney
Return to the top of this page

---


"Getting Involved"




Hey, if you take a cool trip and visit some cafes and think your travel would be interesting to share with the rest of the membership, please consider writing an article for the newsletter. We're always looking for new articles or information to pass along. Also, consider contacting Tony to help organize or help with an event. Events don't just happen but it takes time and a lot of effort to make them successful. Tony is always in need of local contacts for event planning. Check out the "Calendar of Events" section above and if an event is going to be staged in your "home" city, let Tony know you are there to help make a difference. Also, we update the HRCPCC calendar weekly adding and updating local, regional and major pin collectors meetings and events. Those events are planned and scheduled to help you become more active in this hobby.

Contact Virgil LaFerney to submit newsletter articles or events for the Calendar.
Contact Tony Anzur for info on events or to help with events.
Contact Anna Oyape for help with the Pin Passport Program.
Contact Neal Ekengren to volunteer to help with keeping the Pin Catalog up to date.
Contact HRCPCC Officers for club related issues.
Contact HRC Customer Support for help with your account or on-line orders.

A HUGE thanks to Michael Candland, Greg DeVor, and "The Logoholic" for getting involved and for taking the time to provide us with these great member articles.

Also, major kudo's to the guys and gals who work so hard each month to keep our Pin Catalog updated. Thanks to our PinMaster's for all of their hard work and determination. Our Pin Catalog is looking awesome and it's because of them we all have such a great tool to help this growing hobby. Thanx PinMaster's...



Return to the top of this page